Investment Recovery (often referred to by practitioners as "IR") is the practice of recouping the value of assets no longer needed by a company by identifying and reusing or disposing of surplus assets.
The Investment Recovery Association is the professional organization for managers of surplus and idle assets and a diverse group of suppliers to the industry. With corporate investment recovery (IR) departments and the many organizations providing specialized services for them, the Investment Recovery Association is the premier resource for companies and individuals engaged in the professional management of surplus and idle assets.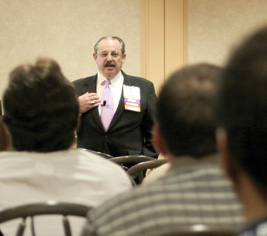 Our corporate members are a Who's Who of the Global Fortune 1000 and government organizations, representing virtually every industry.

Our associate members provide dozens of specialized services; from appraisals of used equipment…to auctioneers…demolition and environmental remediation contractors to scrap metal dealers and IT asset disposition specialists.

We are the only organization that provides certification for the investment recovery profession.
More about the Investment Recovery Association.
Most associations either represent an industry (Home Builders), or a specialized group (Demolition Contractors). In that regard, the Investment Recovery Association is unique, because we do both. The Investment Recovery Association helps fulfill an important role by bringing people together from disparate industries…all focused on sharing best IR practices and improving the knowledge and skills necessary to properly perform the wide-ranging responsibilities required of investment recovery practitioners.
We also provide important networking opportunities for IR professionals. Many investment recovery 'departments' operate as a separate function within a larger department, and may only consist of a few individuals. That's where the IRA can provide much-needed assistance. During our conferences and throughout the year, corporate IR managers share ideas with others who also work on the 'corporate side' of the equation, or meet with the many providers of specialized services often required in the valuation or disposition of surplus. All with the goal to help achieve the highest-possible value from otherwise idle assets that can be turned into bottom-line income or re-utilized somewhere else in the organization.
There are two types of membership in the Association.
Membership for a business or governmental entity, foreign or domestic, with an ongoing investment recovery program that is ancillary to the entities' principal business activity.
Persons who are employees or agents of certain business, education, and governmental entities like brokers, dealers, contractors, consultants and others who are actively engaged in providing services or information with respect to the disposition of surplus asset.