Smart Surplus Solutions. Investment recovery (IR) has historically taken a backseat in strategic planning, but business trends are putting this vital part of an organization's enterprise front and center. Increasing regulations, corporate responsibility programs, brand protection and demand for real-time performance data all require effective strategies for delivering enduring value to an organization.
A recent survey we conducted of approximately 150 investment recovery professionals reflects this emerging complexity.
According to the survey, while "recovery" is cited by 28% as one of the top three success factors for IR professionals, other factors were also noted, including best-in-class process/execution (23%), program support (16%), efficiency (12%), internal client support/change management (9%), technical expertise (7%) and risk management (6%). A successful future for investment recovery programs, therefore, requires a more progressive approach that accounts for this new complexity.
A clear trend is the increased desire to approach surplus management as an opportunity to support strategic goals of benchmarking, sustainability, risk management and brand protection.
Organizations can choose the best IR partner and implement best practices throughout the reverse supply chain by using the three C's of investment recovery success:
Confidence: Partner with a market leader that can do what it says it can do

Coverage: Seek a complete solution for surplus that alleviates the burden on internal teams

Control: Drive strategic impact through a deeper partnership that factors in analytics and risk 
Solution Leadership When partnering with a third-party provider, it's critical to consider the value they can return while examining the sustainability and efficacy of that value. Leading organizations should consider critical questions to determine if a partner has the knowledge, expertise and ability to implement a winning solution:
Does the vendor have asset category expertise?

What is the vendor's reputation in the market?

How does the vendor demonstrate success to clients?

Are resources tenured, knowledgeable and consultative?

Is the operating platform they use scalable and flexible to adapt to future needs?

Are processes documented and repeatable?

Does the provider possess an extensive buyer base and understand local markets?
Complete Solutions Another theme voiced by IR professionals is the need to do more with less, and the focus on global surplus asset management. Companies looking for buyers in the backyard will no longer thrive. Additionally, companies that choose to handle the reverse supply chain internally risk burdening already overtaxed staff, leaving dollars on the table, and/or exposing the company to risk.
Strategic Impact A clear IR trend is the increased desire to approach surplus management as an opportunity. For organizations, this means looking for a vendor with experience and a proven track record to drive recovery and ensure surplus management supports strategic goals–benchmarking, sustainability, risk management, brand protection, etc.
The best IR programs ensure they have partners that see and understand this bigger picture, investing the right level of effort and attention to make a measurable impact.
Through a more programmatic, holistic approach and long-term strategy, global organizations can set themselves apart from competitors and extract more value from assets with confidence, coverage and control in the reverse supply chain.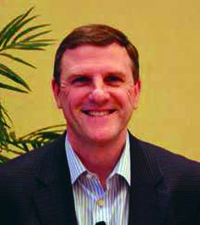 This is a brief recap of the presentation by Bill Angrick, Chairman and CEO of Liquidity Services, Inc. www.liquidityservices.com bill.angrick@liquidityservices.com