Professional Development
Four things to do to advance your career.
The Investment Recovery Association is the premier source of professional development for investment recovery professionals. By providing ongoing education, skills training, and industry benchmarking, the Investment Recovery Association sets the standards for investment recovery practitioners worldwide.
Through active participation, Association members dramatically improve their skills and professional contacts, helping them personally and professionally. Here are four things you can do to help make yourself more valuable to yourself and your company: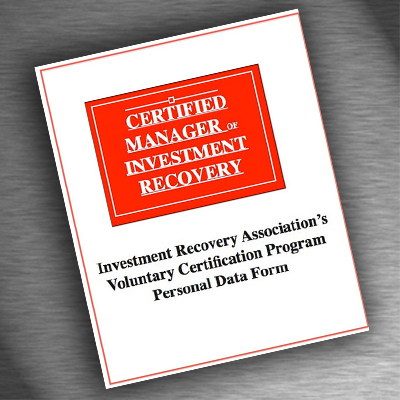 One: Attend the Annual Investment Recovery Seminar and Trade Show.

Two: Get Certified!

Three: Participate in Best Practices and Benchmarking.

Four: Network with Fellow Investment Recovery Professionals.
Elaborating on the Four Areas
Attend the annual Investment Recovery Seminar and Trade Show. Hundreds of IR practitioners across a wide range of industries engage in three days of challenging professional development and skills training, informative workshops, round-table discussions and seminars. In addition, the Investment Recovery Trade Show brings together experienced specialists in dozens of service categories that can help you manage surplus easier and (frequently) more profitably. (Learn More)

Get Certified! Gaining Certified Manager of Investment Recovery (CMIR) status has proven to provide a career-boost! Founded in 1994, the CMIR program was designed not only to further elevate professional standards and evaluate individual performance, but also to recognize and distinguish those who have reached one of the highest levels of achievement in investment recovery management. Almost 200 investment recovery professionals have earned the CMIR designation in the subsequent 15 years. Individuals obtaining the designation have been tested to meet high standards of current knowledge, expertise and professionalism and have pledged to adhere to a strict code of ethics. (Learn More)

Participate in the Best Practices and Benchmarking. Every two years, the Association fields an exhaustive Benchmark Study through the Center for Purchasing Studies of Arizona State University. Anonymous participation by corporate member companies detail processes, procedures, costs and results. The results of this survey becomes the basis for the industry's Best Practices.

Network with Fellow Association Members. Investment Recovery Departments are typically only a few individuals. Frequently people get assigned to "IR" with very little previous experience in the valuation or disposition of surplus assets. With hundreds of other members who have walked in your shoes, the sharing of experiences and information is something that new members always remark about. Contacts made during the Conferences, while volunteering on committees or just through phone calls and emails frequently turn into life-time friendships.