Investment Recovery Handbook; Adding Value to the Supply Chain
Truly a "Must Read" for Anyone Associated with Investment Recovery
This 360-page book is the culmination of more than a quarter century of education in the professional management of surplus assets. If you're new to the business or an old pro, there is something of value to be learned in all 18 Chapters, Sample Documents, Contracts and Appendixes.
Published under the auspices of the Investment Recovery Association, with dozens of contributors and subject matter experts, this is a vital tool for anyone interested in securing the highest value for the surplus or idle assets of any organization. Every corporate entity has surplus assets; typically as much as 20% of the physical assets at any point in time are "non-performing", and thus a drain on the organization. This book provides a clear means for those responsible for disposing of those assets to appropriately value and market those no-longer-needed items in the most cost-effective and profitable manner.
From computers and mobile phones to processing equipment and entire manufacturing facilities, learn the best practices for professional (and profitable!) surplus asset management. Investment Recovery has been the missing link in the Supply Chain, and this handbook answers the many questions that supply chain purchasing management must solve.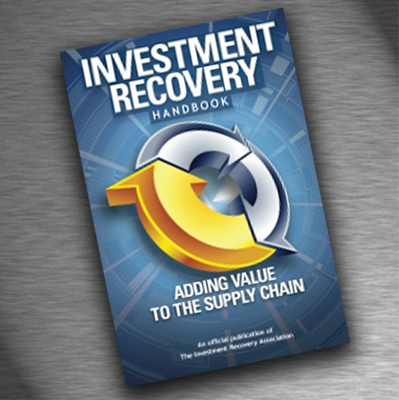 EXPERT ADVICE. Hundreds of insider tips reveal the process necessary to identify, value and dispose of the non-performing assets in your organization.

WORKSHEETS, TEMPLATES AND SAMPLE AGREEMENTS. Dozens of examples to help with scrap sales, auctions, bid solicitations and broker agreements.

BEST PRACTICES. Top 10 Best Practices for Investment Recovery as established by members of the Investment Recovery Association.
What others are saying about the Investment Recovery Handbook
"This book unlocks the secrets of the supply chain's missing link…professional surplus asset management." -Kristina Waters, Cox Communications
"An essential desktop reference to help identify and dispose of surplus assets in the most efficient and profitable manner." – Kris Eigenbrood, Campbell Soup Company
"An essential review of the challenges-and solutions-to surplus asset management." -Todd Thompson, Colorado Springs Utilities
"In the complexity of our increasingly 'green' society, we must try to ensure that we are not only returning value to our bottom line, but also the world we live in." -Marty Owens, Dow Chemical Company
"An informative and helpful desk reference for all that is Investment Recovery and improved supply chain management." -Ronald Sizemore, BASF
For orders shipped outside the U.S. or Canada, please order from Amazon.com