How Investment Recovery Benefits the Supply Chain
Surplus Surprise … it's cash!
The physical assets of any large organization (from manufacturing and office equipment to entire buildings) wear out or are no longer needed where they were originally put into service. That's where investment recovery adds exceptional value. As experts in surplus asset management, IR professionals employ a unique process to find and identify assets no longer being fully utilized by their organization, then go through distinct steps designed to recoup the highest-possible value from those assets.
Instead of filling landfills and scrap bins, IR practitioners find the highest-and-best use for surplus and idle assets, saving their companies-primarily Fortune 1,000 businesses-hundreds of millions of dollars each year.
A Whitepaper for Supply Chain Execs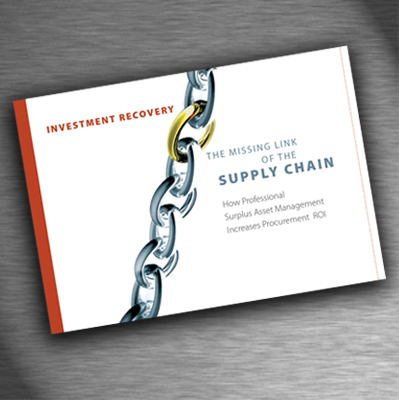 INVESTMENT RECOVERY: THE MISSING LINK OF THE SUPPLY CHAIN.
How Professional Surplus Asset Management Increases Procurement ROI.
Points highlighted in this informative whitepaper include:
Identification of Non-Performing Assets. At any point in time, an average of 10%–20% of a corporation's total assets are either non-performing or surplus.

Highest ROI of any Department. Organizations with a formal Investment Recovery process show more than a 20X return on the disposition of their surplus.

Bottom-Line Improvement. The additional dollars generated from investment recovery translate almost immediately to bottom-line profit improvement.

Sustainability. The investment recovery process helps improve employee morale and is a primary means of supporting the sustainability initiatives of a corporation.

Better SOX Compliance. Substantially improved compliance with Sarbanes-Oxley requirements are an added (and virtually free) benefit of a well-designed investment recovery program.

Learn How. Investment recovery research, professional certification (Certified Manager of Investment Recovery) and formal education in the principles and day-to-day application of investment recovery practices are available only through the Investment Recovery Association. The next courses will be taught at the 82nd  Investment Recovery Seminar and Trade Show, March, 2016, in Houston, Texas.