Costa Concordia, the 114,000-ton cruise ship that wrecked off the coast of Italy in January 2012, has safely arrived at the Port of Genoa Voltri, marking completion of the largest maritime salvage job in history. The huge cruise ship crashed on rocks off the island of Giglio, 19 kilometers off Italy's western coast. The ship capsized and sank in front of the harbor with more than 4,250 people on board, resulting in 32 deaths. The monumental task of righting the disabled ship, refloating it and towing it safely to a port for dismantling has taken an international effort.
The delicate task of towing the disabled ship took a convoy of more than a dozen support vessels, including two tugboats with a combined 24,000 horsepower and 275 tons of bollard pull at the bow for the hull, and two additional auxiliary tugs positioned aft.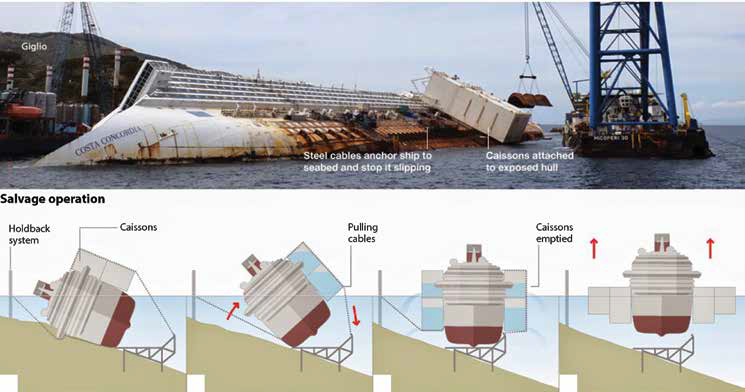 But prior to the delicate towing operation, righting the 114,000-ton Costa Concordia required what is believed to be the most expensive wreck-recovery operation ever staged, estimated at more than $1.5 billion. The operation was a huge challenge, involving untested methods, and more than 500 people who installed 18,000 tons of concrete and steel on the seabed, and attached giant ballast tanks – each the size of an 11-story building.
To raise the vessel, air was pushed into 30 giant steel tanks called caissons attached to the vessel, expelling the water inside and raising it two meters above the artificial platform, which was put in place during the parbuckling phase last September.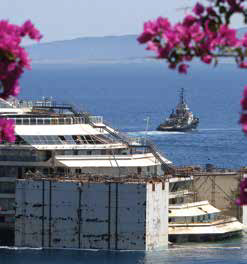 "It's well documented that this is one of the hardest recovery operations in maritime history, so it's satisfying to see the end product. We're proud to lend our drilling experience to such an important, international effort, and hopefully to provide some closure to the families affected by this tragedy," said Sam Whitaker, marine installation services manager.
Now, Titan Salvage will continue working in Italy over the next few months demobilizing equipment and personnel. As for the Costa itself, a Genoa consortium will soon begin dismantling the 114,000 ton vessel, stripping the ship for scrap metal and recyclable materials.
Dismantling the ship to strip it for scrap metal and recyclable materials is expected to cost about $130 million. By the time it is complete, the overall salvage effort will have cost Carnival Corporation, the owner of the ship's operator, Costa Cruises, and its insurers more than $2 billion. The ship originally cost $570 million to build in 2006. The ship's captain is on trial accused of manslaughter, causing a shipwreck and abandoning ship.
Sources: Scientific American, International Travel News, BBC News, New Scientist, The Telegraph, Maritime Journal