Online Campus is free and full of opportunity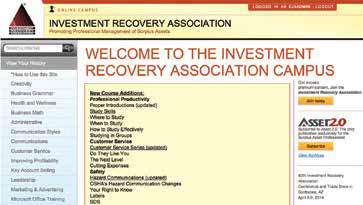 One of the benefits for members and associates is your department's access to the Investment Recovery Online Campus. I personally get on the campus every month and make a commitment to take at least two classes a month–to either improve my skills on such things as making a presentation, to learning how to improve my communications and management skills with my staff. I am always amazed at the number of classes (most less than 10 minutes in length) that are available to me.
Here are some recent course titles that I found helpful:
Administrative Courses: Stress Management: Handling Stress
Presentation Skills: Making The Presentation: Psyching Up not Out
Supervision: Generational Differences: The Issues of
Generational Differences in the Workplace, Traditionalists in the Workplace, and Baby Boomers and the Issues of the Generational Differences in the Workplace
Here are some new or updated courses:
Professional Productivity
How to Leave Voicemails that Get Returned (updated)
Social Media
LinkedIn (updated)
Facebook (updated)
Twitter (updated)
Instant Messaging (updated)
Don't Press Send (updated)
As a favor to yourself, your family and your fellow workers, log on to your Investment Recovery Association campus today.
There is a link right from the home page. There is one user name and password per company, so ask your Investment Recovery Association member representative for the user name and password, and Get Learning!
Best Regards, Jane Male, CAE, Executive Director
PS: You can always email me if you are missing your log on information, jmale@swassn.com