Metal Prices Update
Provided by MetalPrices.com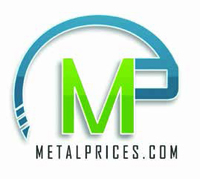 MetalPrices.com is a premier market intelligence service for the international metals industry that provides reliable and accurate material pricing for metal products. MP's main focus is price discovery for "open market" metal products such as ferrous and non-ferrous scrap and secondary products. The service also provides features and functionality that were created by veteran metal industry professionals.
Click here to view the latest from MetalPrices.com
Investment Recovery Association members receive twice-yearly metals markets update from researchers and editors of MetalPrices.com.

Live or delayed price feeds from the world's largest metal exchanges: CME, LME, and Shanghai

Physical / over-the counter (OTC) prices for over 600+ global metal products.

Commodity bank and broker reports

Exclusive editorial content detailing the North American scrap steel markets.

A REST API allowing for redistribution of data to internal Supply Chain Management or Enterprise Resource Planning systems.

Mobile App and Tools (alloy calculator, price trigger alerts, historical database, RTD Excel function, Custom Dashboard, etc.)