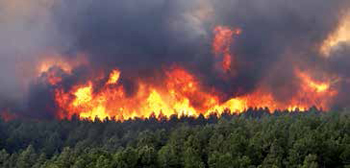 As some of you know, in June of this year, Colorado Springs experienced the worst forest fire in the history of our state. We live in a very densely wooded area just outside the city, and as I drove home from work one afternoon, I could see the plumes of smoke from the highway as I approached my neighborhood.
Soon we got the Reverse 911 call putting us on evacuation notice. As my wife and I scrambled to make sense of what to do, we were quickly forced to face priorities. We'd need clothes of course. But photographs of our twins were suddenly more important than big screen TVs. The pictures on the fridge were more valuable than the refrigerator itself. The "things" that represented our lives were surprisingly low cost…but of inestimable value. Insurance can replace an appliance or furniture, but not memories or keepsakes.
We watched as C130 airplanes and Chinook helicopters buzzed overhead dropping water and fire retardant, trying to halt or impede the blazing fires. It was truly reminiscent of a disaster movie…except this was real. For all the anxiety and fear in the face of this disaster, I was amazed at how the community rallied to help out those in need.
Untold numbers of people volunteered time, shelter, and aid to those families who had lost everything, as well as support to the firefighters, police, and military that came to the rescue. In all, almost 500 homes and almost 15,000 acres were destroyed. We were fortunate. Our home was saved. And now, realizing how close we came to losing everything, we now have a very different feel about "home." Shortly after the Colorado Springs fire, Arizona suffered an immeasurable loss of their own, with the deaths of 19 brave firefighters. In addition to our gratitude, this has certainly provided a perspective on our lives, and will help shape our priorities forever.
Perhaps that's the good that comes from disasters, accidents, and even deaths in the family or loss of loved ones. …the realization of how precious what we have is, and how thankful we should truly be every day. I want to hang on to this feeling of thankfulness; knowing that in an instant our lives could change completely. The plaque that hangs in my house has new meaning: "Live long, laugh often, and love much."
I hope each of you finds an opportunity to get away from work and get closer to your family and friends. I have a newfound burning desire to do that very thing. My very best wishes to all of you.
Todd Thompson CMIR,
Colorado Springs Utilities
President, Investment Recovery Association
tthompson@InvRecovery.org
12-Aug-13