Education. Opportunity. Profitability. Sustainability.
The Investment Recovery Association is the premier source of professional development for investment recovery professionals. By providing ongoing education, skills training, and industry benchmarking, the Investment Recovery Association sets the standards for investment recovery practitioners worldwide.
The benefits of membership are substantial and sustainable.
Below is a list of member resources that can help to advance member careers.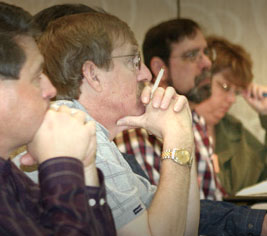 Through active participation, Association members dramatically improve their skills and professional contacts.

Attend the annual Investment Recovery Seminar and Trade Show.

Participate in Best Practices and Benchmarking.

Gain a Certified Manager of Investment Recovery (CMIR) status.
More about the Investment Recovery Association.
Investment Recovery Association (IRA) is unique. IRA helps fulfill an important role by bringing people together from disparate industries…all focused on sharing best practices and improving the knowledge and skills necessary to properly perform the wide-ranging responsibilities required of investment recovery practitioners.
We also provide important networking opportunities. Corporate IR managers share ideas with others who also work on the 'corporate side' of the equation, or meet with the many providers of specialized services often required in the valuation or disposition of surplus. All with the goal of helping to achieve the highest-possible value from otherwise idle assets–turning the value of idle assets into bottom-line revenue that can be re-utilized somewhere else in the organization.
There are two types of membership in the Association.
Membership for a business or governmental entity, foreign or domestic, with an ongoing investment recovery program that is ancillary to the entities' principal business activity.
Persons who are employees or agents of certain business, education, and governmental entities like brokers, dealers, contractors, consultants and others who are actively engaged in providing services or information with respect to the disposition of surplus asset.