Join us for exclusive, best-practices education and idea-sharing FREE webinars with peers and thought leaders. PDF downloads of the presentation and other complementary resource materials will be available after the presentations.
There are currently no webinars scheduled. Please subscribe to the Investment Recovery Association newsletter for updates for future webinars, news, and events specifically for those to buy, sell, or manage surplus assets.
RECORDED WEBINARS
Missed a live webinar? Subscribe to the Investment Recovery Learning Center to view these and all our previously recorded webinars. Free to all members. Become a member today.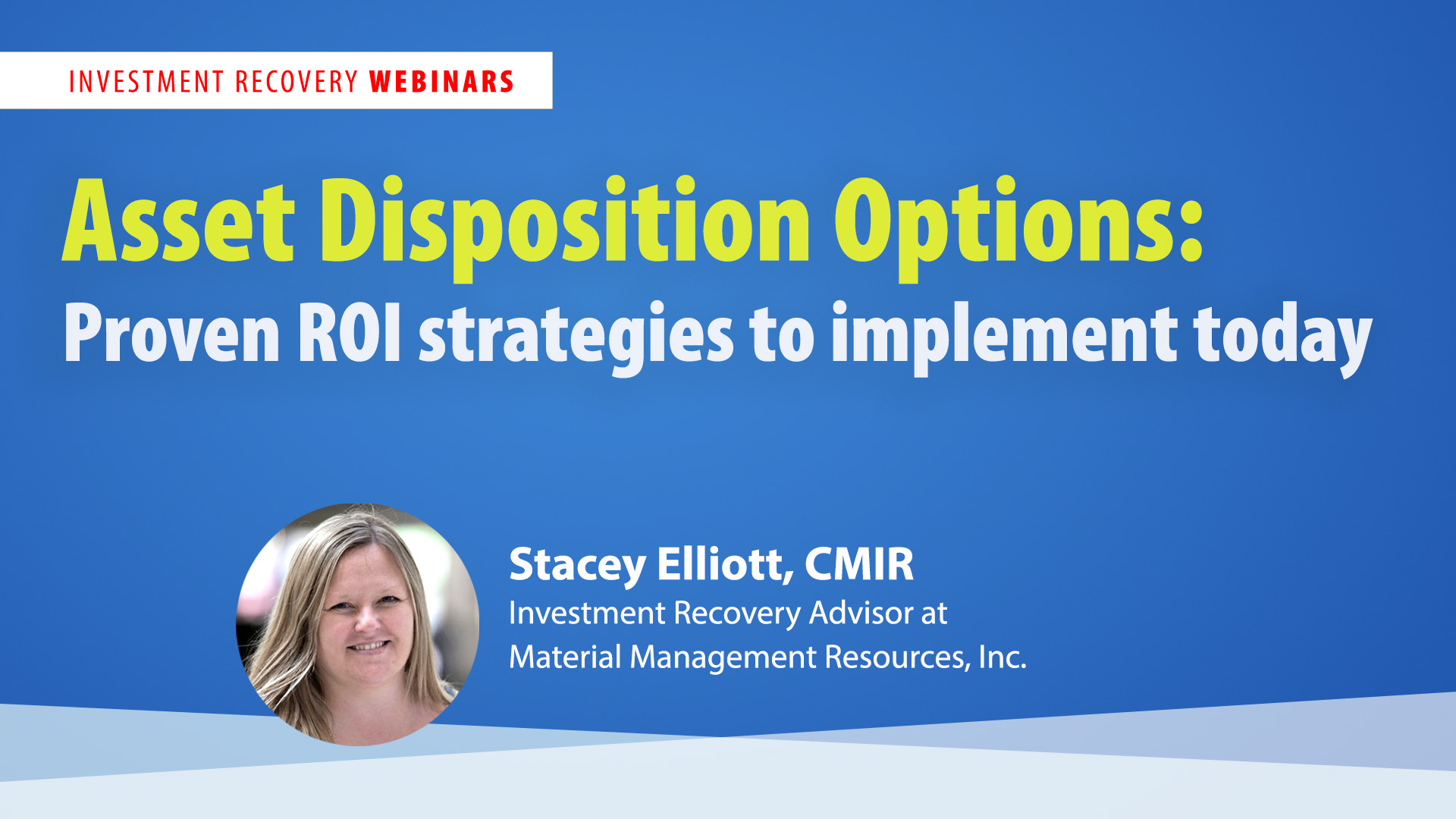 ASSET DISPOSITION OPTIONS: Proven ROI strategies to implement today
Hosted By: Stacey Elliott, CMIR
Investment Recovery Advisor at Material Management Resources, Inc.
ho among us hasn't faced this challenge: "I need more strategic disposition options – period!" Don't worry, we've all been there – especially when we manage more assets and more complex assets. That's why Stacey Elliott, CMIR, MMR will be presenting this just-in-time webinar for all IR pros!
HIGHLIGHTS INCLUDE:
28 questions you need to ask to ensure maximum efficiency and ROI
A step-by-step disposition timeline leaving nothing to chance
MMR case studies to demonstrate success
Proven strategies you can implement today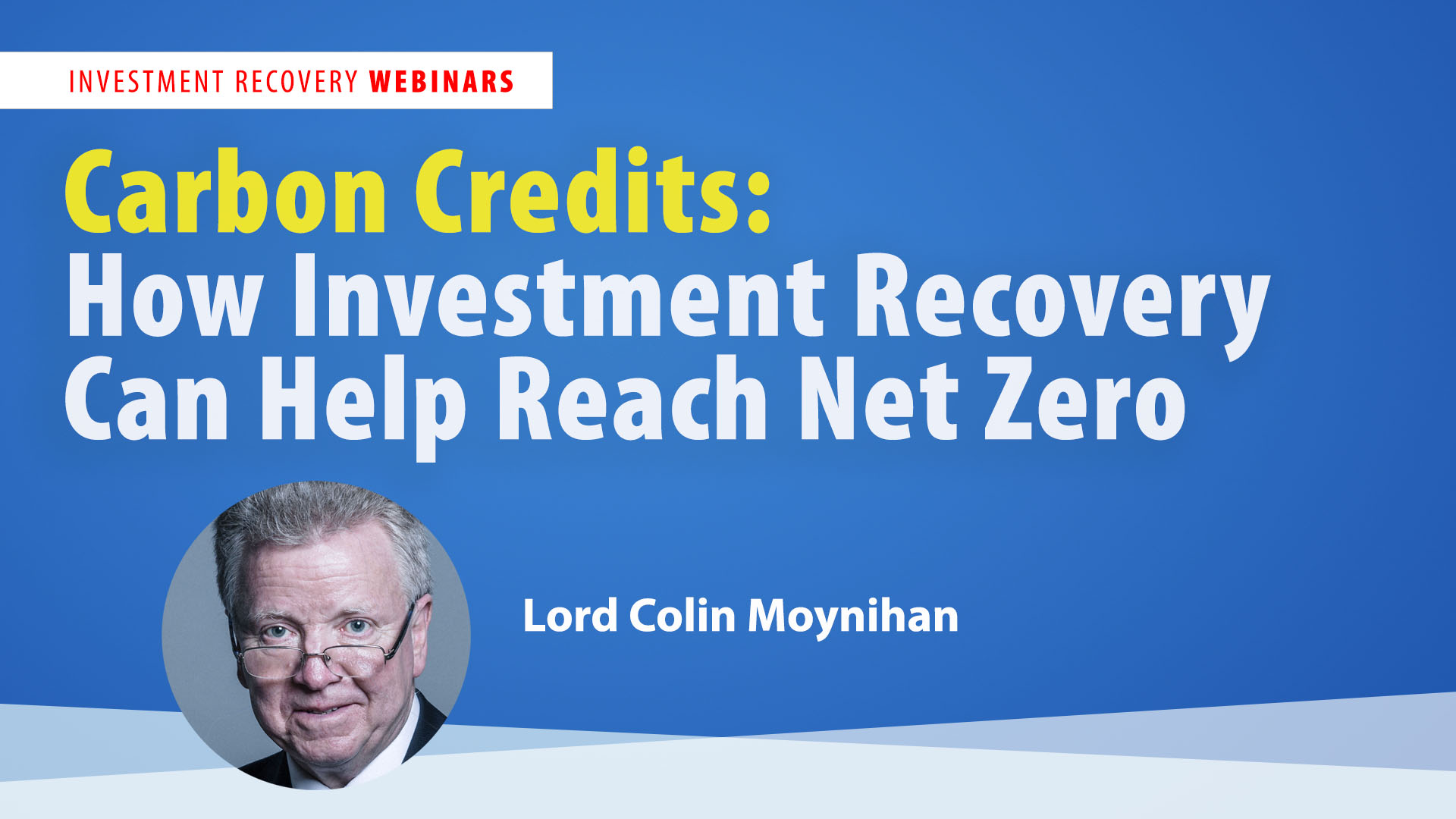 Carbon Credits: How Investment Recovery Can Help Reach Net Zero
Hosted By: Lord Colin Moynihan
Senior Adviser to Cleveland Industrial Recycling.
Former Chairman of Hydrodec
As an IR professional, you have a voice in helping your company meet its Net Zero goals. What if you had new strategies to offset emissions and close the 'transformer oil loop' using Carbon Credits? Those 'what ifs' are now the solutions you've been seeking. Tune into the next webinar, March 22, at 10:00 CST and learn:
LEARN ABOUT:
Carbon Credits and how they can offset emissions

Strategies for using Carbon Credits

How oil can equal Carbon Credits

Closed-loop system for a utility and their transformer oil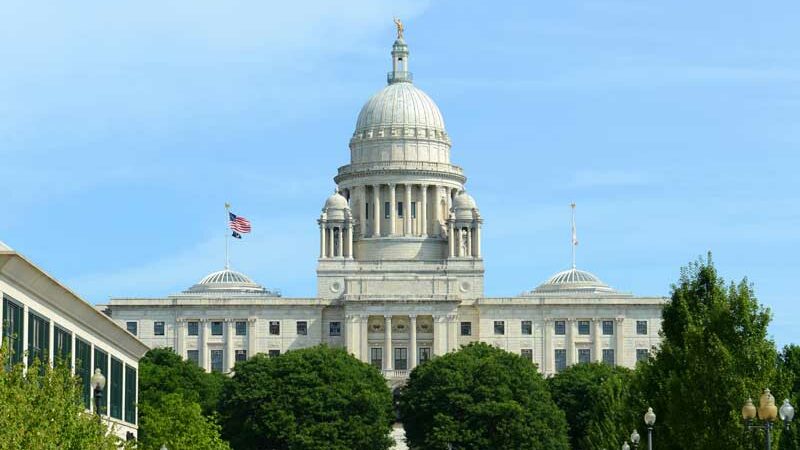 Investment Recovery in State Government
Hosted by: Steve Ekin, CPPA, GCPA  |  Director, Surplus Division,
Georgia Department of Administrative Services
Discuss how the state of Georgia converted a three warehouse collection system to a completely virtual disposal process.
Discussion Topics:
What were the challenges to going virtual

What change management was needed

Implementation of the Investment Recovery 7 R's

How to manage everything from heavy equipment to lasers

Open Discussion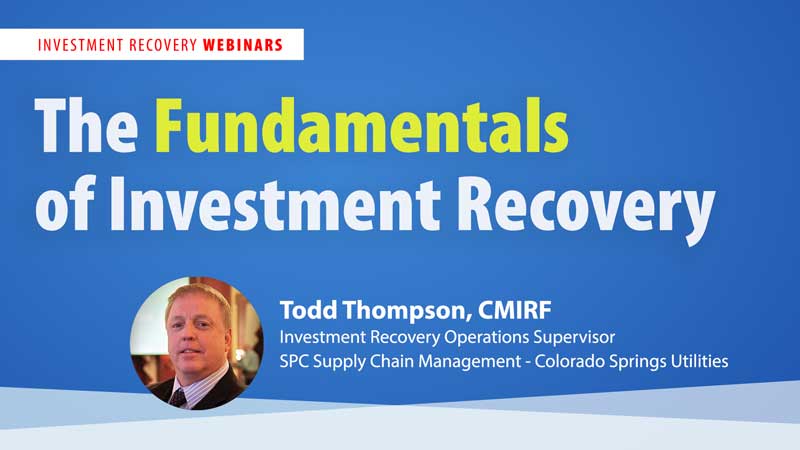 The Fundamentals of Investment Recovery
Hosted By: Todd Thompson, CMIRF
Investment Recovery Operations Supervisor SPC Supply Chain Management -Colorado Springs Utilities
A recent study has shown that, on average, 20% of an organization's assets are surplus to its needs. In this webinar, you will learn the proven methods and best practices for streamlining the process of getting the most return on your surplus industrial assets.
LEARN ABOUT:
What is Investment Recovery and the process
The financial impact of IR on an organization's bottom line
The 7 R's of Investment Recovery
Understanding Your Customer
The impact of sustainability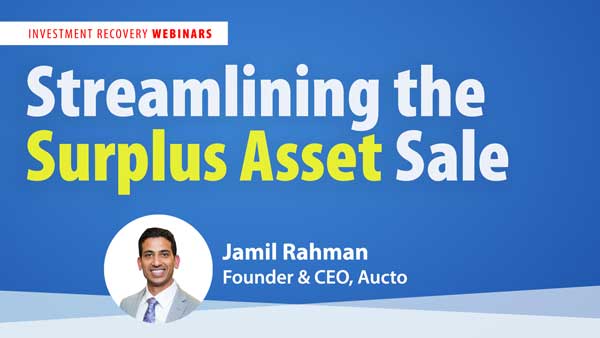 Streamlining the Surplus Asset Sale Process
Hosted By: Jamil Rahman, Founder & CEO, Aucto
A recent study has shown that, on average, 20% of an organization's assets are surplus to its needs. In this webinar, you will learn the proven methods and best practices for streamlining the process of getting the most return on your surplus industrial assets.
LEARN ABOUT:
Market Trends: The Accelerated Growth of Online
How To Prepare, Catalog, and Price Assets For Sale
Creating Demand for Your Surplus Assets
Understanding Your Customer
Mitigating Your Risk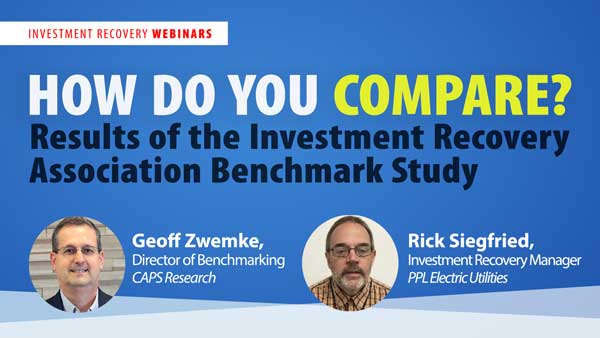 How Do You Compare? Results of the Investment Recovery Association Benchmark Study
Hosted By: Geoff Zwemke, Director of Benchmarking, CAPS Research
Rick Siegfried, CMIR, Investment Recovery Manager, PPL Electric Utilities (retired)
CAPS Research, the third-party administrator of our Benchmark Study along with Richard Siegfried, CMIR, PPL Utilities, will share the results of the latest Benchmark Study. They will help you…
Understand what is included in the numbers
How you compare with your own metrics and reporting
Plus tips on how you could use this information internally
Hosted By: Mark Hutson, CMIR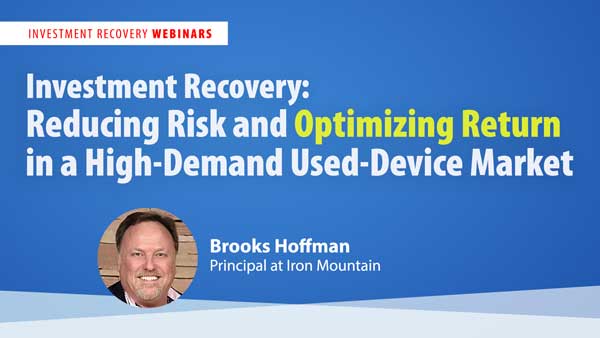 Investment Recovery: Reducing Risk and Optimizing Return in a High-Demand Used-Device Market
Hosted By: Brooks Hoffman, Principal at Iron Mountain.
The market for used IT equipment is seeing record demand. Recent disruptions in the supply chain coupled with a sudden surge in remote workers have resulted in an unbalance of market supply and demand never seen before. There has been no better time to resale or dispose of IT assets. However, you must beware of the risks. As you look to outside resources to optimize your return, you must ensure that your organization isn't exposed to data security risk, and doesn't contribute to environmental damage.
This webinar provides a brief overview of the significant ITAD-related third-party certifications that exist and help you understand what type of assurance they provide.

CMIR Certification: Why, What, and How.
The CMIR designation provides you with the credential that proves you have achieved the highest level of professional standards, knowledge, and expertise in IR.  It could mean career advancement in a fast-growing and dynamic industry. Savvy employers understand that a certified professional is their best investment for staying ahead of sustainability and compliance opportunities and challenges.
This webinar provides a roadmap to earning your CMIR. Highlights include:
What is CMIR certification

Eligibility requirements

Overview of the exam format

Subject matter covered in the exam

Next steps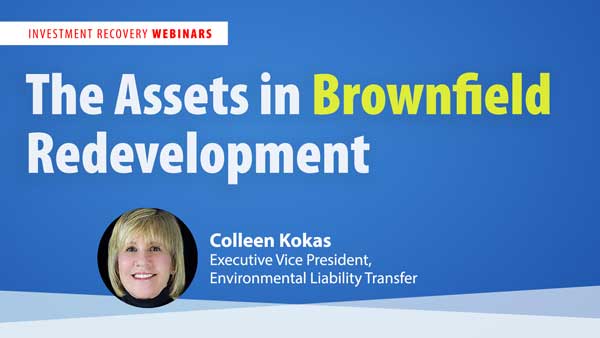 The Assets in Brownfield Redevelopment
Hosted By: Colleen Kokas, Executive Vice President, Environmental Liability Transfer
In this webinar, you will learn about the environmental liability assumption process and the impact of real estate, asset recovery, and demolition play in the overall success of brownfield projects. A wide range of stakeholders has long perceived Brownfields as a strategic market opportunity.
LEARN ABOUT:
Risks facing Brownfield owners
Scope of Environmental Liability
The impact of real estate, asset recovery, and demolition