WEBINARS
REGISTER BELOW! Join us for best-of-breed education and idea-sharing FREE webinars with peers and thought leaders.  PDF downloads of the presentation and other complimentary resource materials will be available after the presentations.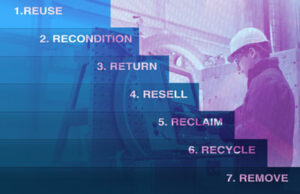 Fundamentals of Investment Recovery:
Thursday, January 17, 2019
10:00 AM – 11:00 AM Central

When it comes to IR cost benefits in your organization…can you show how it impacts the bottom line? Do you want proven methodologies for turning 'green into gold'? Need the latest best practices and compliance updates on sustainable waste handling? Then mark this webinar as a must-attend! Whether you're just starting your career in investment recovery or are a seasoned pro, tune into this webinar for learning new skills and knowledge for adding more value to everything you do.
Who Should Attend:
Anyone who has an interest in learning the best practices of removing surplus and idle assets from the books. Or managers responsible for improving the lifetime value of a wide range of corporate assets. Including, but not limited to:
Corporate Finance Officers
Supply Chain Executives
Investment Recovery Managers
Corporate Sustainability Managers

Purchasing Managers or Agents
Procurement Managers
Sourcing Specialists
Warehouse Managers
What You'll Learn:
Significant and immediate financial benefits of IR to the bottom line
Discover actionable information of sustainable and compliant waste handling
Ramp up to the basics of Asset Identification, Appraisal, and Sales
Explore the three basic principles of the IR process for Asset Identification, Valuation and Disposition…and a brief 'how-to' of each step
Practical skills in benchmarking:
— The cost-benefit ratio of each IR employee
— Average percent of each IR sales dollar to hit the bottom line
— Amount of surplus your company carries on average
HOSTED BY: Todd Thompson, CMIR Fellow. Todd has spent the last 28 years in the Investment Recovery profession. His career started with Pfizer Global Manufacturing in 1990 managing surplus assets for their largest site in the U.S. and then grew into Team Leader for a Global Asset Recovery group responsible for divestitures and plant closures all over the world for Pfizer. For the last 7 years and currently, he is the Investment Recovery Operations & Materials Management Supervisor under the Planning & Finance Division of Colorado Springs Utilities. He manages the surplus assets for the four services municipal utility as well as the City of Colorado Springs, El Paso County, Fountain and Manitou Springs, Colorado.