With less than a decade left to meet the UN's Sustainable Development Goals, the global green agenda has never been a hotter, more widely debated topic than it is today.
Sustainability and the concept of generational responsibility are now driving the actions of many organizations in the utility and energy industries. This is a time when businesses have the opportunity to be better by making the right choices, whilst taking time to understand what achieving a circular economy truly looks and feels like.
Encouragingly, many utilities and their Investment Recovery specialists have acknowledged their need to help reduce greenhouse gas emissions and play their part to help fight climate change and protect the planet. Recognizing this requirement to future proof, some have made commitments to net zero or carbon neutrality, and while some plans are far more ambitious than others, many are looking to reduce their carbon footprint to zero by 2050. To reach this goal, every organization is having to devise and deploy multiple strategies to increase efficiencies, decrease emissions, improve sequestration and explore offsets.
With these targets firmly in focus, industry specialists Cleveland Industrial Recycling (CIR) and Hydrodec of North America (HoNA), have partnered to offer a unique opportunity for Investment Recovery professionals to help their organizations meet their carbon reduction ambitions.
It's widely accepted that utility companies annually recycle or dispose of thousands of gallons of used mineral oil through replacements, upgrades and repairs of equipment. What isn't as widely known is that mineral oil from pole/pad mounted transformers and oil circuit breakers can all be used by HoNA for feedstock to create  electrical grade transformer oil.
Even better, by taking used transformer oil and recycling it into the unique and world-leading SUPERFINE™ transformer oil product, HoNA is then awarded carbon credits from the American Carbon Registry, which can be then transferred to our utility partners to help offset their carbon footprint.
Eversource Partnership
Aside from the environmental processes and benefits, Investment Recovery professionals are eager to see examples of successes and milestones the partnership has delivered and how it is helping recover maximum value from retired assets.
One of those examples is HoNA's partnership with US energy provider, Eversource Energy. CIR and HoNA have partnered with Eversource to handle their used transformer oil management. CIR's trained Field Technicians collect the oil from substations or service centers across Massachusetts, Connecticut, and New Hampshire.  Working with the Eversource Environmental team, the technicians ensure that manifests, both hazardous and non-hazardous, are completed correctly and that the oil is reclaimed in the most environmentally responsible way possible. When the oil arrives at Hydrodec, the team in Canton tests it, calculates the volume and uploads all the information into Eversource's internal system so Investment Recovery can track the management seamlessly. CIR and HoNA want to ensure that the program is suitable for each utility's unique circumstances and will cater the program to those circumstances. Our group will work hand and hand with each utility to be true partners in handling their oil in the most environmentally friendly manner possible.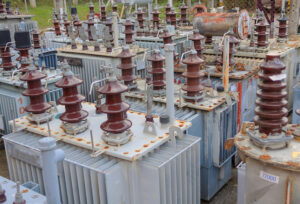 Let's talk Carbon Credits
So, what exactly is a Carbon Credit and how does it work?
In simple terms, a Carbon Credit is a term for any tradable certificate or permit representing the right to emit a set amount of carbon dioxide into the Earth's atmosphere. The average American is responsible for around sixteen tons of carbon dioxide each year emitted into the atmosphere.
To give some interesting examples, a typical 22mpg gas-based car emits around five tons of CO2 per year.  Meanwhile, driving 2,500 miles, the distance from Boston to Salt Lake City, generates one ton.
So how exactly do you get a Carbon Credit for recycling your used transformer oil? Let us explain.
Creating "virgin" transformer oil means drilling must occur. The drilling process involves extracting oil out of the ground, a carbon-intensive process, to make and refine transformer oil. HoNA's process takes the oil already in the market and recycles it back to its original electrical grade level. In doing so, it also removes any PCB's that may have been in the oil – even retaining 99.9% of the material.
The delta between the carbon emissions used to drill and refine new oil, and the emissions required to recycle used oil, is where the Carbon Credits are created. Essentially, if a utility company then used the recycled oil in their new equipment, the utility would then create a unique closed loop economy where they are continually using the same oil year after year.
It is no secret that Investment Recovery professionals aren't in a position to quickly switch their company's fleet to electric vehicles, plant a forest for sequestering carbon, build a wind or solar farm to replace coal plants or reduce line loss. However, what they can do is send their transformer oil to HoNA or instruct their current collectors to do so.
By sending their oil to HoNA, they will receive Carbon Credits once a year based on the total gallons of oil sent. Importantly, an organization can receive the Carbon Credits for any transformer oil with or without PCB contaminants. HoNA is able to remove the PCBs through their patented process without incineration, which also helps to reduce greenhouse emissions. The partnership between CIR and HoNA provides PCB treatment services based on closed loop refining  process and through patented technologies. We completely re-manufacture and de-chlorinate the PCBs without generating hazardous by-products and with de minimis air emissions.
HoNA can recover 99.9% of the oil it receives and will issue a certificate of recycling to their utility partners to satisfy their "cradle to grave" responsibilities, which is a win-win for the Investment Recovery team and the company's Environmental department.
HoNA's innovative propriety technology for the recycling of used transformer oil ensures the protection of our environment and a carbon offset opportunity, in pursuit of a sustainable future. It ensures a circular economy – where reducing, recycling, and reusing are core concepts – resulting in lower pollution and carbon emissions.
Three key options
Once an Investment Recovery professional has earned the Carbon Credits for their organization, what can they do with them?
Well, there are three options when it comes to the Carbon Credits utility.
The first is to retire the Carbon Credit and it will then be used as an offset on your carbon footprint. The amount of Carbon Credits generated will not be enough to offset a coal plant, but it could potentially offset your fleet's footprint, which would help an organization reach net zero while transitioning to electric vehicles.
The second option would be to sell the Carbon Credits. If an organization reaches net zero ahead of schedule and no longer needs the offset, the credits could be sold to other organizations who have not yet met their net zero goals. These Carbon Credits, like any commodity, have a fluctuating price, but as more organizations move to Carbon Neutrality the value should increase over time with the increase in demand, which potentially could drive a new revenue stream.
The third option would be to simply sit on them. An Investment Recovery professional could work with their ESG leadership to "bank" the credits and then strategically retire them to help accelerate their timeline for reaching net zero or  to make up for delays in other parts of the strategy. The credits do not expire and do not go away until they are officially retired by the American Carbon Registry.
A green and global opportunity
Quite simply, Carbon Credits represent an opportunity for utility companies to make a lasting difference, and to prove they can go the extra mile when it comes to sustained environmental protection and truly engaging in the circular economy.
Carbon Credits allow utility companies to showcase to their partners, customers, investors and employees how seriously they take their green initiatives and reputation.
The Hydrodec and Cleveland Industrial Recycling partnership is now providing a mechanism through which utility companies can make their carbon footprint ambitions a reality and be a leader in the industry.
There is after all – no planet B.
For further information, readers can contact:
Erik Booth, Chief Operating Officer
Cleveland Industrial Recycling
Phone: 330-328-9585
email:  ebooth@clevelandindustrialrecycling.com