An interview with four "Rock Stars" in environmental and demolition take the sustainable spotlight in Orlando.

At the 2018 Seminar & Trade Show, Mike Mitchum, CMIR, and Fred Maier co-presented the popular back-to-back sessions "Demo for Dummies" and "Environmental Concerns." The audience response was more than just rave reviews – they wanted more at the 2019 conference. Plans are being discussed for advanced sessions on these hot topics next year. And speaking of hot topics, in the last 2017 ASSET 2.0 issue, we featured an article interviewing 'rock stars' in the auction industry. It was so well-received that we are doing a whole 'rock-star' series, continuing with subject matter experts from the environmental and demolition sectors. You'll get best practices from Mike and Fred – with some Orlando material included as well as new content from AEI's leadership team, Stephen Graham, and Tim Woodward. Watch for more 'rock star' interviews in future issues!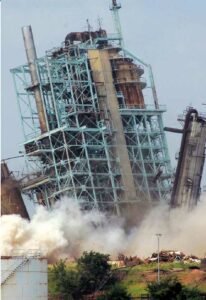 When Demolitions Get Personal…
You have a facility to decommission or demolish. If this is your first large-scale project, your head may be spinning with "Where do I start?" Or maybe you've been to this rodeo before, and losing sleep over with "What have I overlooked?" Let's face it. You have an awesome responsibility as the frontline to protecting the company's bottom line…and people's safety.
What are the challenges associated with the decommissioning process?
Mike: The older the facility, the more waste streams encountered. Newer facilities may have existing documentation such as drawings and manuals taking out the guesswork. With older decommissions however, that documentation may be lost. In that case, work with a hybrid team of an experienced demolition company, owners, stakeholders and subject matter experts.    
Fred: I find that the environmental assessment is not as valued as the actual work to be performed. From a broader perspective – what are some common challenges in terms of planning, resource allocation, budgeting, environmental, compliance etc. Any examples or lessons learned to help avoid challenges in the future?
Steve: Top chronic challenges: 1. Regulatory differences vary from both a state and regional basis. 2. A scarcity of disposal facilities with wide-ranging costs. 3. Owner decommissioning processes vary widely, with differing results and costs.
Tim: Biggest challenges? Educating clients to start the process early and gathering detailed property information prior to acquiring firm pricing. Spending money up-front for investigations can save significant dollars in the long run.
Mike: Not only is it advisable, it's required. Sampling for asbestos, mercury, PCB's, naturally occurring radioactive materials, other radioactive sources, universal wastes, soil and water contamination (in some cases), etc. is required prior to a decomm/demo project. After all, how can you protect your workers, the public and your budget unless you know what you're working with? Other recommended surveys involve utility disconnects, structural integrity of building components, existing damage of surrounding structures and pre-existing environmental conditions to name a few.Is a pre-demolition/renovation building survey required or advisable? Is bulk sampling required?
Fred: Prior to work, a complete environmental assessment should be performed, with specific guidance as to any potentially hazardous materials on site. This not only covers asbestos but should include lead, universal waste and concrete. The assessment can be completed by a licensed company with survey experience in similar work.
Tim: Under the EPA, all renovation/demolition activities are required to have an asbestos survey performed. Specific states and localities have differing requirements for the extent of the survey. Surveys for lead and other constituents of concern (COCs), such as other metals and PCBs, are advisable or required where painted surfaces exist. Disposal facilities will require this information, and state regulators will not allow on-site or off-site disposal as non-hazardous building debris without such documentation.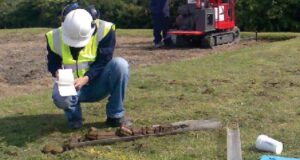 What can an IR Manager do to facilitate a successful demolition or decommissioning project?
Mike: The more potential value a contractor can account for, the less your out-of-pocket cost will be. This includes identifying warehoused spare parts that might increase the value of installed equipment, identifying materials,
location and quantities of higher dollar nonferrous alloys, providing an up-to-date inventory of equipment and compiling a potential buyers list. Remember – release the assets ASAP to maximize value.
Fred:  The earlier an IR manager can be inserted into a demolition project, the greater success for the outcome. The IR manager can inventory the assets and determine if the pieces can be redeployed or sold. It's very important
to allocate enough time for developing a plan that incorporates the 7 R's of IR to help facilitate a successful project.
Tim: Always prepare a specification that clearly defines requirements for all activities and includes controls, limitations, and liability limiting language in the best interest of the Owner. Specifications create a great base for contracting with the remediation and demolition contractors.
Steve: A key challenge facing many IR managers is having the experience in assembling a bid package for ACM/RM abatement and D&D activities, that will be comprehensive enough to achieve the goal of soliciting a best value price and schedule that are to the owner's advantage and can be implemented without significant changes.
If I follow the regulations and available agency guidance, does that protect me from claims by workers or neighbors alleging negligent exposure?
Mike: Not necessarily, but it's a great start. The regulatory and agency guidance are normally the bare compliance minimum actions. In addition to having written protocols in place proving your compliance, you must also
ensure that the hazards and mitigation steps have been communicated to the workers as well as to the local community.
Fred and Mike: Under the Comprehensive Environmental Response Compensation Liability Act (CERCLA), you can be 100% compliant today but be liable tomorrow should laws change. That's why impeccable documentation of materials considered for future regulation is vitally important.
Steve: Well-defined and executed engineering controls such as personnel and site perimeter testing, and health and safety and construction practices and plans consistent with federal OSHA regulations are very important, and supplement the regulations and guidance.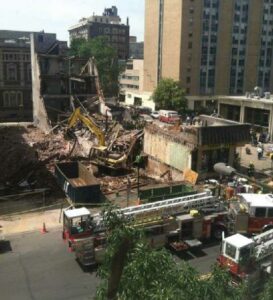 What's the best way to maintain compliance with the ever-changing and complex regulatory requirements?
Mike: Perpetual training as well as having a person or group monitor your facilities or projects—not only for the materials and requirements implemented now, but also for future requirements.
Fred and Mike: Become an active participant by plugging into a wide range of publications and industry organizations that take the pulse on emerging issues. If there are regulations coming out that do not accurately portray the real issues, speak up now before they become law.
Steve: Several regulatory compliance vendors exist providing continuous regulation updates and that information can be relayed internally. For the active facility, especially one with complex operations, a periodic environmental audit conducted by internal or external experts helps verify compliance maintenance.
What are the key components to include when developing the demolition RFP? What are the most overlooked?
Mike: The most overlooked component is a requirement that bid forms or schedule of values be submitted in an "apples-to-apples" comparison opposed to an "apples- to-oranges" manner. Also, make sure your well-defined scope of work and design limits specify what's NOT included – and placed on the opening RFP pages.
Fred: After reviewing the RFP, you can gauge the clarity and completeness of the proposal (or the lack thereof) by the number of questions raised. This can potentially result in the final submittal not meeting the client's objectives. Typical RFP omissions are the lack of equipment inventory, drawings, incomplete site assessments and pictures not identifying where samples were taken.
Tim: If foundations or subsurface components are to be removed, good estimates for sizes and depths are needed to eliminate underestimation; and if contaminated soil or groundwater is encountered in foundation removal, costs for remediation of such media are recommended to be accounted for in advance.
What's the best way to pre-qualify contractors?
Mike: Designing a good pre-qualification form is extremely necessary. Some companies require contractors get prequalified through third-party services. But when it comes to forms and services, junk in = junk out. Establish a procedure to verify the safety, financial and other information the contractor provides including safety statistics, man-hours per years, bonding capacities, references, MBE/SBE/WBE participation and regulatory safety/environmental citations to name a few.
Fred: Many companies utilize supply chain risk management tools to screen the contractors. These tools allow a potential contractor to submit their financial, health and safety and insurance information into the system. Their submittal packages are then reviewed and compared against a company's standards and are given a rating. In addition, have the firm submit project profiles and references.
Steve: A pre-solicitation Request for Qualifications is most helpful, to allow the owner to identify those firms who can provide the necessary services several months in advance of the RFP issuance. Some respondents will team up with other contractors to provide all the necessary services and resources.
What are some of the hidden costs in a decommission or environmental assessment?
Mike: Start out with a good checklist by doing your homework before the assessment or team with an expert to make sure you do not miss anything. Regarding hidden costs – it's all about quantities. If your quantities are off significantly, your costs will be off also. For example, how many liquids and other process fluids do you need to dispose of?
Fred: Let's say that you performed a bulk sampling of the paint and caulking and only lead was identified. Before shipping the debris off-site, waste sampling was performed and PCB's (polychlorinated biphenyls) were discovered. This dramatically increased your project costs.
Tim: When impacted soils and groundwater must be disposed off-site, pre-disposal sampling if limited can dramatically increase T & D costs. Also, certain EPA regions are encouraging less-educated owners to conduct extensive PCB sampling of window and other caulking, when TSCA regulations allow the removal and disposal of such materials without the need for sampling, which can exceed $75/sample.
What kind of environmental/safety risks have you witnessed first-hand – and how could they have been prevented?
Mike: Companies not following the written procedures and protocols established in their plans (sampling, HSE, technical work plan, etc.). When a company develops a plan, it should have input from everyone involved with its implementation – including field crews. A kickoff meeting with the entire crew is highly recommended.   
Fred: Although I didn't witness the incident personally, this violation garnered national attention. In 2013, Philadelphia enacted revised regulations concerning future procedures when an adjoining building next to a demolition caused multiple fatalities and injuries.
This horrific accident could have been prevented if a structural engineering report was performed beforehand and the work/surrounding areas secured. Also, the lack of crew drug testing/background checks may have been a contributing factor.
Tim: Thorough, continuous safety emphasis on a demolition and decommission (D&D) project is essential to keeping workers safe and the job accident-free. Effective practices and equipment and real-time monitoring are needed to limit or avoid such risks.