2022 Investment Recovery Association Conference & Trade Show
EXHIBIT & TABLE TOP SHOW GUIDE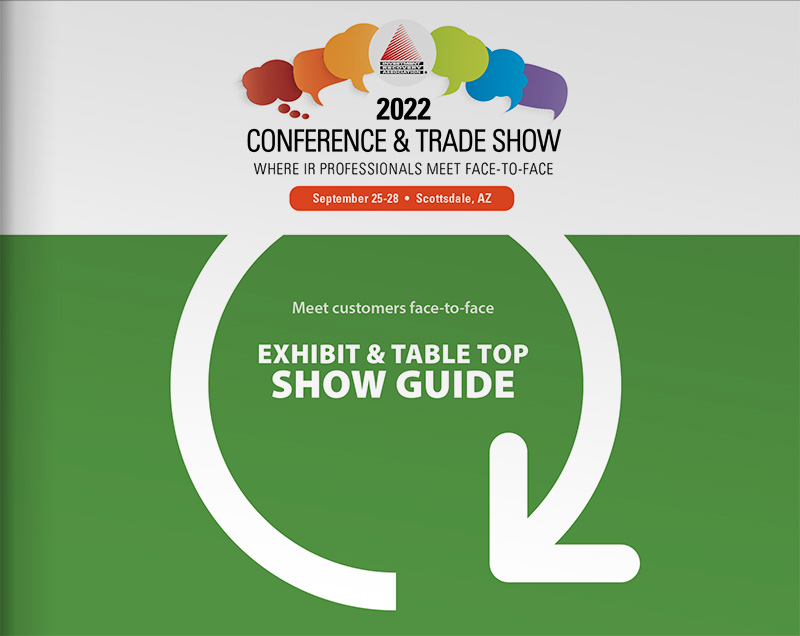 Attendees include a "who's who" of the largest organizations in North America
Other past attendees have included:
•  Ameren
•  Boeing Corporation
•  Campbell Soup
•  Cox Communications
•  DuPont
•  Florida P&L
•  State of Georgia Administrative Services
•  Mosaic Corporation
•  Oncor
•  Phillips 66
•  QuikTrip
•  Tennessee Valley Authority
•  U.S. Postal Service
•  Xcel Energy
•  Plus, hundreds of representatives from the many companies that provide services for members.
Meet with customers and prospects face-to-face
The Investment Recovery Conference & Trade Show is typically attended by more than 75 major corporations with surplus asset challenges and opportunities. This is a great chance to meet with customers and prospects in a comfortable setting in beautiful Scottsdale, AZ
Hundreds of attendees, serious about Investment Recovery
The people that attend our 4-day investment recovery conference are serious about their business, and they're looking for help…your help. On average, they are disposing of about $20 million a year in surplus and utilize more than $650,000 in outsourced services! *
• Their internal staffing has been reduced, yet their surplus has generally increased.
• This is your opportunity to meet one-on-one with dozens of decision-makers.
* Source: CAPS Research Investment Recovery Benchmark Survey