Sometimes you have to look back to look ahead. For example, let's take a look at IR's journey from the backroom to the boardroom over the past five years, starting with an excerpt from a 2014 presentation. Then let's fast forward to the 2019 Spring Seminar and Trade Show where Tate Duncan, Sr. Sustainable Solutions Analyst, Cox Communications, Inc. describes how he and his IR team have elevated their roles to an executive-level advisory group.
In 2014, Julia Urlaub was a featured speaker at the Spring Seminar & Trade Show that year. The following is an excerpt from her presentation on how the role investment recovery plays in corporate sustainability.
"Sustainability is a hot topic. Executives from all facets of the organization are finding reasons to care about sustainability. Some are concerned about existing or expected regulatory compliance mandates. Many fear rising stakeholder pressures related to environmental stewardship and transparency. Others are concerned with emissions and water quality risk. And there is the ever-pressing concern of maintaining a positive brand reputation. Investment recovery impacts the triple bottom line IR practitioners meet the economic goals of sustainability by maximizing the corporation's return on surplus and end-of-life assets through redeployment and sales efforts. Of course, value generation best practices include redeployment, inventory reduction and associated cost savings, such as storage costs, maintenance costs, and taxes. Yet those best practices are already in place. What new business practices are already on the horizon? Practices that further sustainability, reduce risks while also creating business value? Could supplier collaboration be the answer?"
Fast forward to the 2019 conference in San Diego. Tate Duncan, Sr. Sustainable Solutions Analyst at Cox Communications presents a firsthand account of how investment recovery is now a vital part of Cox's progressive sustainability initiative. And from the Q&A that followed, it was apparent that the opportunity to expand IR's reach into corporate sustainability is now.
Sustainability…definition, please
Many people equate sustainability with recycling. And they would be right—but it's much more than that. Since the '80s, sustainability can now be defined as "providing mutually beneficial outcomes for people, organizations and the environment, both now and for the future." IR folks would say "people, planet, and profit." No matter how you say it, it all means the three pillars of sustainability.
But no matter how you define it, it all comes down to bottom line benefits. Sustainability, like investment recovery, both share a triple bottom line (TBL) ROI. Quite simply, this 'trifecta' is when you're making profits while being responsible stewards of both people and the environment. And as the business adage goes, 'what can be managed can be measured' as in sustainability reporting. This is a critical tool that investors use to make the most informed decisions.
Don't mess with sustainability: When higher profits don't pay
Warren Buffett once famously stated that "It takes 20 years to build a reputation and five minutes to ruin it." And for companies, that reputation has to do with how they treat people and the planet. Are they honest and ethical when it comes to sustainability? Or…do they disregard the safety of the environment and its inhabitants in favor of higher profits? Eventually, these unethical companies are outed—either by non-profit groups or regulatory entities. And the price they pay goes beyond the millions of dollars lost on lawsuits and penalties in the short term—to the potentially irreparable damage to their reputation and brand in the long term. Many big-name companies may have recovered financially, but their brand may never recover.
Sustainability on the job
Sustainability drives waste out of your business, which is an ongoing process improvement initiative.  If that sounds like a strategy ripped from the Six Sigma playbook—you're right. But for sustainability to work successfully, there has to be an awareness and working interrelationship between the three pillars of people, profit, and the planet that:
Implements improvements
Integrates best practices both inside and outside your company and then you report your results so you can measure them
Quantifies and reports results—measures improvement that you have made
Reduces costs through waste reduction and increases in efficiency
Demonstrates good corporate citizenship/stewardship
Utilizes a means to measure, track and improve performance
Most of us know the seven R's by heart, and sustainability is in perfect alignment with each one.
When we started in IR seven years ago, our scope of responsibility dealt with the most responsible and cost-effective disposition of end-of-life assets. With sustainability, it starts at the beginning, where the asset is being designed with forward-thinking, built-in modularity for renewable use when it's outlived its usefulness. This requires collaboration between your organization, the IR team, and the manufacturer.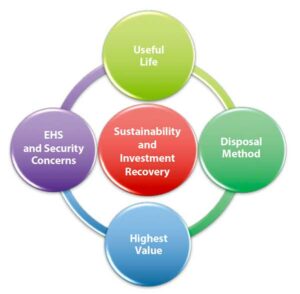 Now, you don't throw the whole thing away—you can upgrade it then reuse in a new way. For example, at Cox Communications, we have to swap out their routers for new ones each time the technology is upgraded. Now we're in discussions with the manufacturer to design a new router with a modular design, so when the new technology comes out, we simply pop out the old component and put in the new one. Now, the old router doesn't become part of the waste stream, just the old component.
In terms of the triple bottom effect, it ticks off all the boxes, good for the people (less cost), good for the planet (less waste) and good for profit (competitive edge). But how our IR group got to this level of sustainable solutions, started 3 years ago.
From the backroom to the boardroom at Cox 
The first thing we tackled was zero waste to landfill from the backend. We needed to know how to do it, so we started going to conferences, researching and then implementing best practices. Then we realized that Cox could have a more significant impact not only for us but for other companies and the greater good. That's when we started looking at the front-end; convincing vendors to make a sustainable change not only in the products they sell to us…but industry-wide. Call it a ripple effect. It was such an important realization that we discussed it with our VP of Supply Chain and telling  him, "Here's the bigger impact we could have by working with vendors to design their products for sustainability." He already saw how IR was responsible for new revenue, lowering costs and risks—but here was the potential for major cost savings higher up in the food chain. And here was that first change: We have a company that makes our coax that originally comes packaged on a reel. Through our IR expertise from the back end, we saw how much waste was generated from the coax reels. So, we worked with the vendor to package the cable in a bag. Now, we don't have to get dispose of that reel. That is one small product out of 4,000 SKUs, yet that one tiny piece saved us $200,000 a year. And it's being sold to other companies who have reduced their waste stream as well.
Getting started at your organization
But how can your organization get started doing the same? You start by talking to your staff who 'touch' that asset during its useful life—from the warehouse to installers. They have first-hand ideas on how to drive waste out of your organization that's higher up in the sustainability value-chain. Then talk to your vendors—how can you build this product? Can you make it more sustainable—from design to shipping materials? Can we get rid of things we no longer need?  What's the total cradle-to-grave cost of that asset?
Because once you buy a product you eventually will have waste later on, so the cost of that product continues. Additionally, you also have risks with brand-stamped waste ending up on a playground or public areas. When you live up to your sustainability standards, it builds your brand and gives you a better competitive advantage by being environmentally responsible.
Sustainability reporting
We compile a vast amount of waste and recycling weight data and then pass it on to our parent companies. They then have the data to calculate their rankings on their respective adherence to sustainability guidelines. That's when we become valued consultants on how they can improve their scores. And make no mistake about it – those scores are becoming key indicators of a company's success. If you pulled up a company's stock performance page from Yahoo; you'll see a link to their sustainability reporting. Potential investors are looking to put their money into companies with strong sustainability records. They know that it makes good business sense to invest in companies that are responsible environmental stewards.
Global Reporting Initiative (GRI) is a not-for-profit group that gives you guidelines on where you can report on your accounting and what your sustainability can achieve. So as people start using them—it's a repeatable process—because what can be managed can be measured.
IR—a powerful voice at the top
So, integrating IR into the Cox sustainability initiatives has been a big benefit for our group to expand our reach and importance to the bottom line of our company. Before we got involved with sustainability, no one from our executive leadership knew my name. Now they do, especially the VP of Supply Chain. Because we meet with him regularly updating him on the progress we have made on reducing waste before it enters our systems and therefore costs to the company. We are no longer delivering news about how much assets have dropped value at the end of their lives—but how the IR group, now Sustainable Solutions, is lowering costs of doing business, mitigating health and non-compliance risks and enhancing our brand through supporting environmental stewardship. Our VP can then show these benefits to key stakeholders above him, and that boosts his value with top leadership as well.
So we started out as Investment Recovery, but currently are Sustainable Solutions with a more powerful voice at the board level. Isn't it time to discover how IR can add value to your company's sustainability program at the front end? Because that is where the future growth of investment recovery is headed—and it's a bright one…and getting brighter all the time.
Tate Duncan, CMIR
Sr Sustainability Analyst Cox Communications