Hard to believe, but it's 2016 already. The new year with new beginnings.  A fresh start for making personal and business resolutions for a healthier lifestyle and bottom line.  As American citizens, we tune into the president's annual State of the Union address every January to look at the past—and hopefully get a jump on the future. But what about the State of Sustainability for our industry today? For insight, we look across the pond to England, where the first ever State of Sustainability 2015 comprehensive report was published by the Ethical Corp.
This annual study gauges the current state of corporate responsibility and sustainability around the world. From that groundbreaking survey, they carved out a niche report, Sustainability in USA, Top Trends 2015, to provide a "looking back to look ahead" recap of the US-based findings. Get ready for some trendspotting, emerging issues, "AHA" moments and opportunities. Yeah, it's been that kind of year!
The Big Picture
Most organizations today are convinced of the value of sustainability. That's not exactly new news. But the great news is this; sustainability for the most part has escaped from its silo and is now a vital aspect of strategic planning. This is especially true for global supply chain management – where reputational and operational risks are the greatest.  But for the US, current trends are helping to shape the future of sustainability for both the near and long term. The following takeaways from the study give us a snapshot of sustainability of where we are today. 

The "AHA" Takeaways:
Key survey results:
Sustainability gets CEO buy-in: 79% of executives polled said their CEO is convinced of the value of sustainability. 
Sustainability is driving revenue: Just over 62% stated that sustainability is driving revenue for their business. 
Sustainability is driving savings: However, 68% said that sustainability was also helping to drive down costs. Taken together, sustainability is having a positive effect on the bottom-line of nearly two-thirds of the companies polled. 
Sustainability as a competitive edge: Nearly a quarter (24%)  cited sustainability as a source of competitive advantage as the single most exciting opportunity for their organization over the next five years.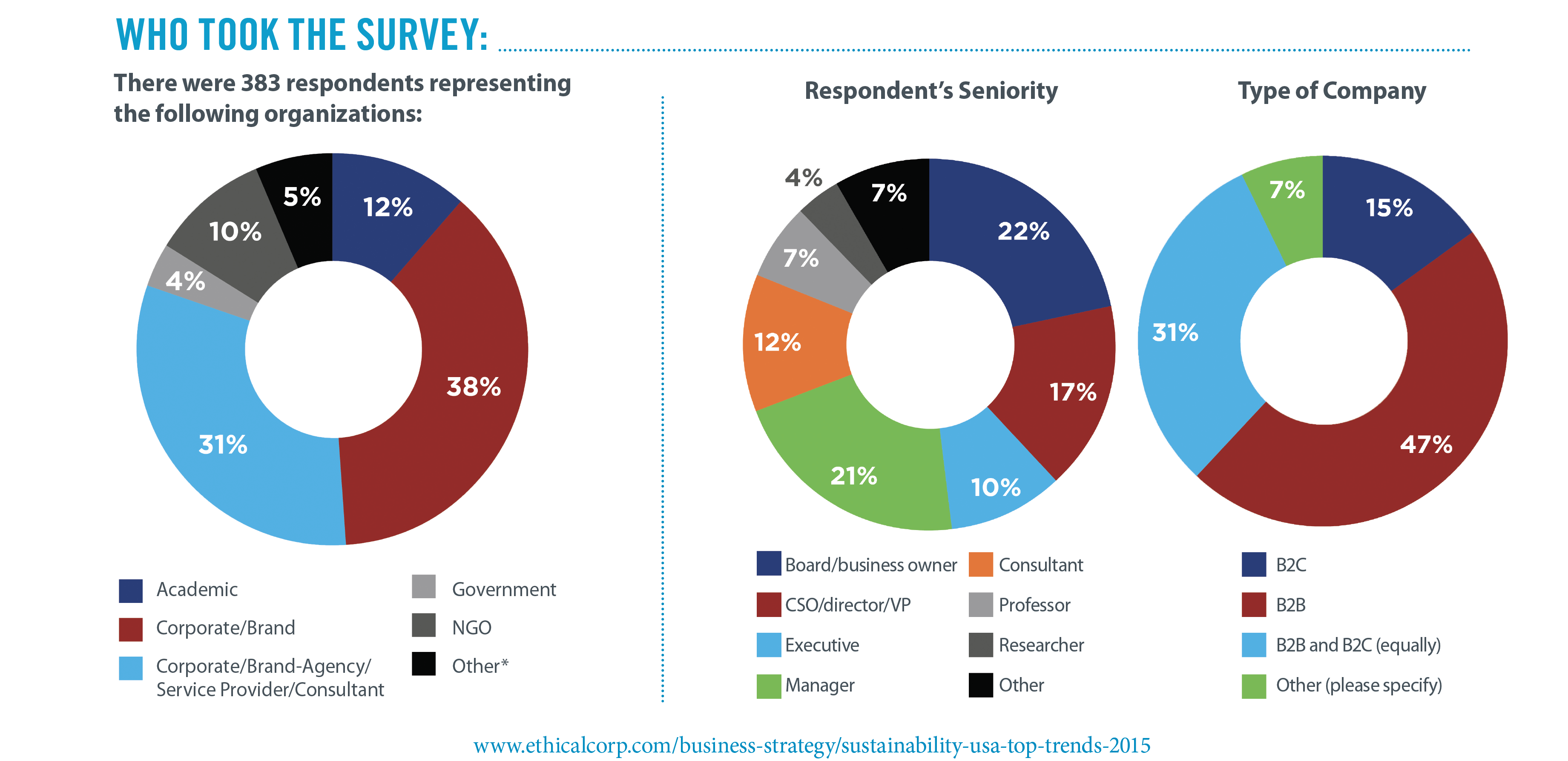 IR—the strategic partner to sustainability
The survey speaks volumes on how far we've come on the sustainability journey. But investment recovery professionals are still struggling with their role within an organization. How can IR be viewed as a strategic function to executive decision-makers? The answer is to focus on long-term growth strategies, which are inseparable from economic, social and environmental issues that include: 
Mitigating risks:
Wise investors look for companies with responsible business practices, a promising future and a long-term perspective that reduces risks. Another area of risk mitigation is regulatory compliance, such as recent climate-change legislation. Smart companies are figuring out how to report and reduce their environmental impact to avoid financial penalties. 
Keeping up with the competition:
The survey also reported that 24% cited competitive advantage as the single, most exciting opportunity for sustainability in the next 5 years.
Attracting and retaining employees: 
Staff turnover costs money. With upwards of 40 percent of today's workers retiring within 10 years, companies have to figure out how to keep the next generation of talent around. Millennials in particular are passionate about working for proactive, sustainable organizations
Sustainability fuels innovation and growth potential: 
IR can help drive innovation in new products and services, business processes and energy-efficient facilities.
Boosting brand power:  
Your brand is one of your biggest assets. So when prospects are looking for companies they can trust, your sustainability story could be a tipping point in buying behavior.
Stay Tuned! And the survey said?  Sustainability is now a key strategic issue throughout an organization. It is no longer a lonely, silo-based outlier, but a major driver for revenue growth, cost-savings, competitive advantage and innovation. But there is more to be done to harness its full potential in the years ahead.  That's why the Sustainability in USA – Top Trends 2015 report is so important as a baseline study. Stay tuned for a new report in 2016, and gauge how your organization's sustainability is evolving. 
SOURCES:
" Sustainability in USA – Top Trends 2015," Liam Dowd,  Ethical Corporation, www.ethicalcorp.com 
"5 Ways to Convince Your CFO that Sustainability Pays," www.greenbiz.com