A personal look at the secrets of success of two multi-generational businesses.
George Newmark in his own words: G&S Technologies history
For more than 50 years, G&S Technologies has helped utilities, businesses, and industry safely remove and recycle obsolete transformers and other oil-filled electrical equipment.
G&S stands for Gaby Newmark and Zoltan 'Sol' Lefkovits, two Hungarian brothers-in-law who came to the US in 1956. Gaby is my father and Sol is my Uncle and father of Jeffrey—my cousin and current VP.
Somewhere in 1963…Gaby and Sol were both out of work. But luckily my grandfather gave them jobs in his scrap metal business. But in 1979, the PCB regulations came out and Gaby and Sol expanded their business into recycling transformers. Welcome to the start of G&S Technologies!

Growing up with transformers and lovin' it!
Dad taught me the value of hard work – and the love for the business. When I was 8 years old, he took me on night jobs moving these huge transformers right through Times Square. We had a full police escort with flashing lights and people lined up taking pictures. What kid wouldn't love that? So that was the fun part – the love for the business. By the time I graduated from college, it was time to learn the business, and that meant hard work.
That's when Dad said, "You know what? Now you gotta work a little bit." Let me translate a 'little bit' – something like 60-70 hours a week on the road. I'll never forget talking to my mother, "Mom, Dad is killing me with all this work!" And she said, "Baby, it's good for you, you're learning the business."
Mom was right. And I learned it good…so did my cousin Jeffrey Lefkovits. Today, we are the VPs of the business and Gaby is the President at 87 and Sol is the Vice President at 85.
I'm still on the road and that comes from Dad's example, "If you're not in front of your customer – someone else is." Gaby was always on the road with the customers and he instilled in me how to give your customers top-notch service.
Today, you will find Gaby and Sol in the office part of the week. Although Jeff and I handle the day-to-day operations of the business, we run the big decisions through Gaby and Sol. Their perspective is invaluable.

A family stops at the gate—but not family business values
We always say "The family stops at the gate" meaning we don't bring family issues to work. Inside the gate—it's all business…and we work very hard and very well together. Inside the gate, however, you will see strong family business values on the job starting with customer service, handed down from Gaby and Sol. If we get a call on the weekend, the team is ready to respond to whatever the customer needs. And when it's a major emergency like a hurricane, customers find out very quickly who they can depend on. And that's right of out of the Gaby and Sol Playbook.
Other guiding principles are ownership and promoting from within. We incentivize those who run the facilities with partial ownership, so we become true partners. That translates into great operational leadership. Also, if you promote from within and given the opportunity to show hard work, as demonstrated by Gaby and Sol – you can move up. It differentiates us from the current corporate mindset. Today, our extended family includes:
George Jackson – President/TCI of Alabama
Frank Jackson – President/TCI of Ohio
Jerry Coleman – Director/Transformer Technologies
Odas Coleman – Plant Manager/Transformer Technologies
Tommy Coleman – Technical Manager/Transformer Technologies
Gil Kozer – President/Northeast Transformers
Patrick Kozer– VP/Northeast Transformers
Intellectual capital—pass it on
But the main advantage of our family-run business is the intellectual capital that's passed from one generation to the next. We care about making profits, but our priorities focus on taking care of our families and customers. In fact, I can't remember a customer we ever lost. I attribute that to Gaby and Sol, who taught their sons the value of unparalleled customer service and a culture built on respect.
IRA and G&S
G&S has been a member of the Investment Recovery Association since the associate member program launched in 1994. As a kid, I loved going to the conferences collecting all the giveaways like pens, keychains, pads, and candy. My Dad never missed a show, because he could connect with customers in one place. That's why I continue his tradition to this day.
The G&S family business—the next generation
We're on the third generation as both family members and non-family staffers bring in their own as part of the team. And me? Now, I take my seven-year-old son on those late-night moves through Times Square. He's learning the fun part of the business like driving a Bobcat better than some of my operators can. And he loves it!
—
Russ Wood in his own words: J.M. Wood Auction Company, Inc. history
Our company was founded in 1973 by my parents J. Malcolm and Brenda Wood. Today we are recognized as one of the three largest privately owned construction auction companies in the United States. In 2019, we will be celebrating 46 years of success as the second-generation transitions into leadership roles. But one thing remains the same…the founding value of integrity remains a vital part of everything we do.
Plenty of work—plenty of home cooked meals
Growing up in the family auction business was a true blessing for each of us. We all started working at the auctions before we started kindergarten. My brother Bryant, sister Kim and I did everything as kids—from working in the office to cleaning the equipment prior to the auction. There was always plenty of work to be done. Our mother, Brenda Wood, leader, and matriarch of J.M. Wood Auction, would get to work early and stay late. However, at mid-morning she started preparing a noon-time meal for everyone who was working, and I mean everyone. When that dinner bell rang, truck drivers, contractors, politicians, equipment dealers all were welcome to share a meal together. When it was time to eat, everyone ate. There were no shifts or hierarchy of who ate first.  We all sat down together, but Mother always ate last. Mom's pleasure came from providing for everyone. It was a time to connect with our employees and maybe lift someone up that needed it. And today, we continue Brenda Wood's tradition and the entire company, along with those same contractors and politicians, sit down and share a meal together.
My Dad "the best auctioneer around—just ask the barber!"
And speaking of politicians, my Dad had an interesting business opportunity at a chance meeting. Back in 1973, Dad was at the local barber in Montgomery, Alabama. Seated next to him was a man talking to the barber about needing an auctioneer to handle his surplus. The barber said, "Governor Wallace, you need to meet Malcolm Wood right here! He is the best auctioneer around." Malcolm Wood struck up a conversation with the Gov, probably gave him a little auction chant and shortly after got the contract to handle the State of Alabama Highway Department auctions.
Adapting to change means new opportunities
Since then, the auction industry has changed in many ways and we—as a family business—adapted to those changes successfully. Back in the day, we would travel around the country putting on one owner auctions for contractors, government agencies and farmers, hosting several auctions per month in different states. Today the trend is to host large 'mega auctions' from our permanent facilities that can house 3,000-5,000 pieces of equipment. We also have invested heavily in our IT infrastructure to support our rapidly growing online bidding platform. Whether onsite at a central location or online, we work very hard to make our buyers' experience a seamless one. And our membership with the Investment Recovery Association since 2016 has helped us grow our business in new and exciting ways. We have enjoyed our active involvement with the IRA. It has been a great way to connect with other agencies and develop personal relationships with them at the conferences.  It's also a been an awesome platform to gain visibility throughout the industry.

Brenda Wood – leadership, legacy and inspiration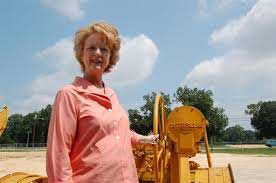 I know that many family businesses are challenged when it comes to transitioning one generation to the next. We are blessed in that regard. Growing up and learning the auction trade from a very young age was just family life for us. Today, everyone works together as we've always done to make our customer experience the best. Our sister Kim runs the office and oversees the day-to-day administrative work. Bryant, myself and J.D. Gray oversee the sales staff and are constantly on the road looking at and pricing equipment for customers.
But in 1990 – we did face a challenge that put us at a difficult crossroads. Our father died at a young age of 46 having built J.M. Wood Auction into a very successful company. Our mother Brenda Wood could have easily sold it or simply not devote the energy required to make it competitive. However, before Dad died, he told her to put only $50,000 into the business and if you lose it…just walk away and never look back. That first year was tough, but so was she. Brenda built it into one of the premier privately-owned auction companies in the US.
In 2013 she passed away, and a great amount of wisdom and knowledge can never be replaced.  Mother knew every customer that walked in, their kids' names and where they were from.  Everyone misses her dearly every day.

The future of the family business tree
The third generation is in the wings – and will be considering their career options in the years ahead. Will some of them go into the business? We hope so. But the most important priority going forward is maintaining our legacy of a strong work ethic and business integrity. Hopefully, a few of them take their inspiration from Malcolm and Brenda and become the future of the family business tree.